This surface treatment combined with BBL technology accelerates osseointegration processes in implantology
One of the key issues in implantology, both for healthy patients and those with systemic pathologies, is the implant's ability to make a direct functional connection with living bone, in other words, its ability to osseointegration.  
The reduction of the total treatment time until the final restoration, which is related to the speed of osseointegration, is equally one of the increasing demands in this type of surgery. 
 At Ziacom we are aware of the importance of innovation and research in the development of new dental materials for the continuous improvement in the performance of the treatments applied to patients. 
 Therefore, as part of our solid commitment to R&D&I, we have worked together with the Biontelligence Systems research group, led by Professor Maher Al-Atari Abou-Asi, to develop an innovative surface treatment for our implants. 
 In order to increase implant success rates, we investigated the modification of various implant surface properties, including its the structure, the chemistry, the loading and the wettability. The result is the innovative Titansure Active system, the combination of the Titansure® surface with BBL technology (Bone Bioactive Liquid), that significantly improves bone to implant contact biocompatibility. 
 The Titansure Active system creates the perfect conditions for greater cellular attraction in the area where implantology has been performed. In turn, the use of BBL in surface treatments exponentially increases the density of hydroxyl groups on the implant surface. 
 This improves the hydration of the area, helping the implant to have a better early active ionic integration with the blood plasma and the bone progenitor cells, before the first adult osteogenic cells attach to the surface. 
 Due to the acceleration of this intercellular process, assimilation times between the implant and the bone are improved and the postoperative inflammatory response is reduced. 
The high biocompatibility of our Titansure Active system has been demonstrated in studies on BBL-treated implant surfaces, as Dr. Sérgio Alexandre Gehrke, the study's lead histologist, points out: "Within the limits of this study, the data obtained in the histomorphometric analysis on the implants of the surface-treated group (78,92 + 0,3%) showed a faster and more efficient osseointegration compared to the control group (53,8 + 2,3% of BIC). The evaluation of bone growth in the medullary portion of the rabbit tibia bone demonstrates the osteoinduction potential of this new surface tested." 
Histomorphometric Analysis – Bone to implant contact (BIC) 

Time of measurement

 

Group A Untreated surface (Control) mean + SD

 

Group B Treated surface Titansure® Active mean + SD

 

15 days

 

33,7 ± 2,3%

 

68,92 ± 0,3%

 

30 days

 

35,8 ± 1,8%

 

69,35 ± 2,2%

 

45 days

 

37,9 ± 1,2%

 

70,34 ± 1,1%

 

60 days

 

41,2 ± 0,8%

 

73,89 ± 1,9%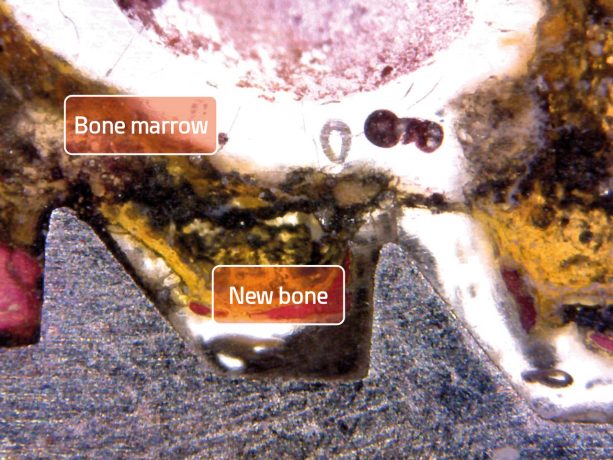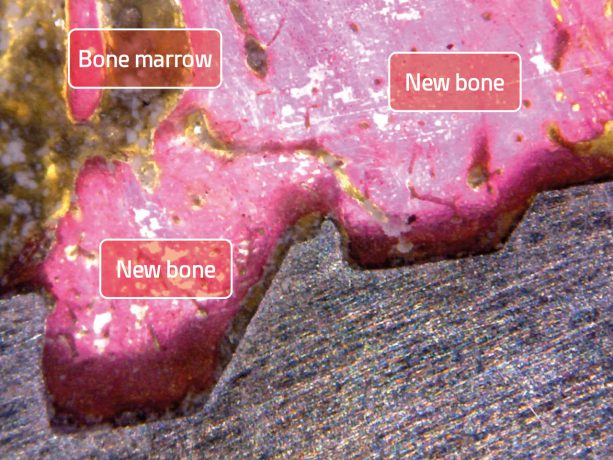 Titansure Active is the latest innovation in Ziacom high-end dental implants and a guarantee for the success of implant treatments.